Car broken down under a low roof?
Underground Car Park Towing
It's probably something you'd never think about until it happens… how do you get a tow truck in to an underground car park?!
We have several trucks across Brisbane that are built for exactly this type of special case. Give us a call now and see how it's done!
24/7 towing from underground parking
Sometimes, all it takes is an old battery and accidentally leaving your lights on to end up in a sticky situation. Your car won't start, you're in an an underground parking spot where regular tow trucks just can't get in. You can't even push it up the ramp for easier access.
If this sounds like the situation you're in right now, give our friendly team a call and we'll get a tow truck on the way to you quickly.
Tow Trucks Built For Low Clearance
Most of the tow trucks you see on the road are tilt trays that just won't fit in an underground garage. For underground car park towing, we have a few tricks (and trucks) up our sleeve to get the job done. Quick, easy, safe and professional.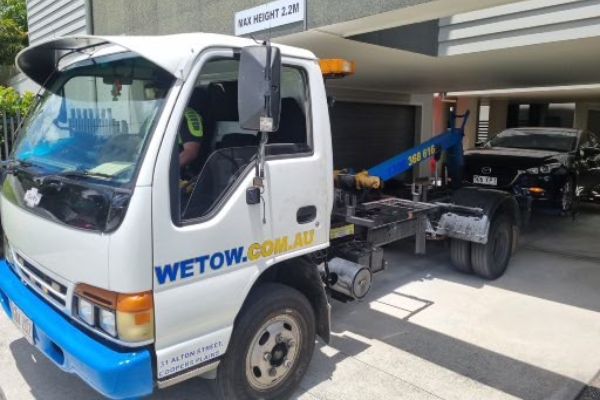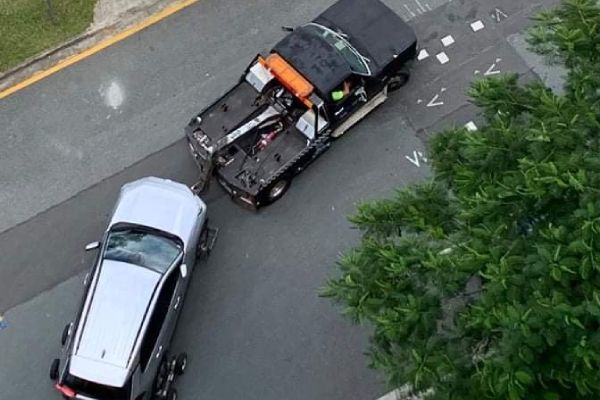 Tow Truck Services
Available 24/7
Breakdowns are frustrating enough without standing around waiting for a tow truck.
Get a truck on the way now from $99.
If you've been in an accident, you already have a lot on your plate. Contact our friendly team and get a driver on the way asap to take away some of that stress.
If you're stranded in an emergency, now isn't the time to wait around for a tow truck.
Get a driver on the way to you right now!
We also offer car towing if you just need to move a vehicle from one place to another.
You guessed it, also from just $99.
Many of us owning motorcycles ourselves, we'll treat your bike like it was our own. Strapping it down carefully and making sure it doesn't get scratched or dented.
From shipping containers to larger vehicles, if it's under 7 tonne and fits on a truck, we can probably move it.
Unsure? Give us a call to find out now.
Equipment and training to move your car safely
Underground parking spaces bring more challenges than just the limited height. They can also make for tight corners and awkward placement, especially if you're parked against a wall or concrete pylon.
An important part of the training all of our drivers go through is dealing with exactly these types of situations. Your tow truck will arrive equipped with jacks, dollies and a professional driver that knows exactly how to use them. 
That means no matter where your car is parked, it can be moved and rotated to an easier location before being loaded onto the wheel lift and towed away. Suddenly, a tricky, technical job becomes another safe, simple tow. All it takes is the right equipment and a quality towing operator.
Don't try pushing your car on uneven surfaces!
Remember, when your engine isn't running, you have no power steering and close to zero brakes. NEVER try pushing it up or down a car park ramp!
Info You'll Need To Get A Tow Truck On The Way
There's a good chance you don't have to arrange tow trucks very often. To make the process less daunting, here are a few basic things you can gather before you call us. This makes for a faster phone call and often a faster arrival.
Your exact location (a street corner, address or business or parking complex name)
The type of vehicle(s) you need towed
The condition of your vehicle (broken down, damaged etc)
Where around Brisbane you'd like to be towed to
Any other information you think might be helpful to the driver (e.g. if it's in a tight spot, is low to the ground or damaged)
Cheap Underground car park towing You Can Rely On — On Call 24/7
If you need your car towed anywhere around Brisbane, just give us a call. We'll have a truck on the way in no time.
What you can do to prepare for the tow truck
One small positive of needing a tow from an underground parking spot is that you're generally in a safe location. Certainly safer than sitting on the side of a busy highway! That said, you can always stay in your car with the doors locked or walk somewhere nearby while you wait if you're in a bad location.
While you wait 
Go through your vehicle and make sure you have anything you need (including house keys!)
Where possible, try to keep people from parking on either side of you
Secure heavy or breakable items, ready for transit
With this done, you can sit back, relax and wait for the tow truck to arrive. It won't take long and your friendly driver will guide you through the steps from there.