Need Your Car Towed Fast?
If you've been in an accident, you already have enough to worry about. Call a tow company you can trust and we'll take care of getting your car to a holding yard.
The last thing you need after you've been involved in an accident is to battle with tow truck drivers.
You've been through enough! Give WeTow a call and we'll take care of your vehicle quick and easy. No messing around, just a quick, efficient service and all from just $99.
We know what to do so you do have to
Being in that situation can be daunting. It's not something you do regularly and knowing what to do can be tough.
Not to worry, we handle accident towing all across Brisbane every week and know exactly what needs to be done.
Once your friendly WeTow driver is on the scene, they'll be able to guide you through every step so you can take care of the things that matter. Simple.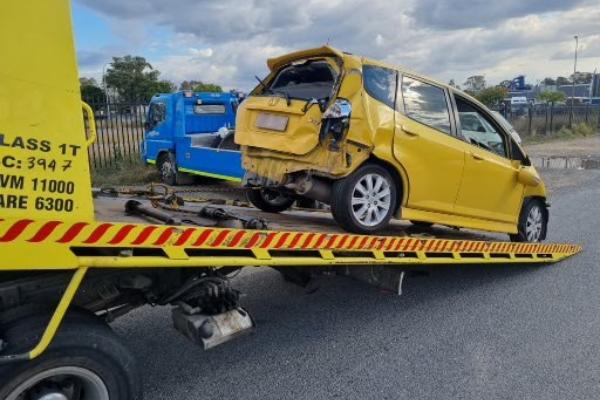 Tow Truck Services
Available 24/7
Breakdowns are frustrating enough without standing around waiting for a tow truck.
Get a truck on the way now from $99.
If you've been in an accident, you already have a lot on your plate. Contact our friendly team and get a driver on the way asap to take away some of that stress.
If you're stranded in an emergency, now isn't the time to wait around for a tow truck.
Get a driver on the way to you right now!
We also offer car towing if you just need to move a vehicle from one place to another.
You guessed it, also from just $99.
Many of us owning motorcycles ourselves, we'll treat your bike like it was our own. Strapping it down carefully and making sure it doesn't get scratched or dented.
From shipping containers to larger vehicles, if it's under 7 tonne and fits on a truck, we can probably move it.
Unsure? Give us a call to find out now.
Wondering what it'll cost to have your car towed with WeTow.com.au? Here's a quick overview. Accident towing isn't as expensive as you think!
| Tow Distance (Regular Car) | Cost |
| --- | --- |
| 15 km | $99.00 |
| 20 km | $115.50 |
| 30 km | $148.50 |
| 40 km | $181.50 |
| 50 km | $214.50 |
Note that these prices are intended as an estimate. Some factors may influence this price.
For an exact quote, give us a quick call on
1300 368 616!

WHAT TO DO AFTER A CAR ACCIDENT
Being involved in or even witness to a car accident can be a stressful and traumatic experience. It's not something most of us have to deal with on a regular basis so it can be difficult to know what steps you're supposed to take. Below are the basics you need to know to handle the crash correctly.
For a more detailed breakdown of the steps you're meant to take, have a look at our blog post on what to do after a car accident. Of course, if you're on the scene of an accident and need immediately guidance, you can call 000 if it's an emergency, otherwise Google your nearest non-emergency number.
Check to see if anyone is trapped or injured. If they are, dial 000 immediately to get help on the way
Determine if police are needed for any other reason. For example, if drugs or alcohol were involved or the crash has caused additional hazards. If so, dial 000 as soon as possible.
If everyone is safe and uninjured, determine if you're going to need a tow truck. If your vehicle can't be safely driven, give us a call for an instant quote and we'll get a driver on the way to you, fast.
If both vehicles are drivable, you should exchange details with the driver of the other vehicle then leave the scene to avoid creating traffic or other hazards.
Once you're somewhere safe, report the crash to Policelink as soon as you can (call 131 444 or use the Policelink app). They'll provide you with a report number that will be needed for your insurance claim.
By following these steps, you're getting the right help on the way and helping to avoid any additional dangers or delays. Being involved in an accident is always a horrible experience, we're here to simplify the process as much as possible.
If you contact us for accident towing in Brisbane or the Gold Coast, we'll get a driver on the way to you as soon as possible. They'll be able to guide you through anything else you need to know.
A Quality Car Towing Service Doesn't Have to be Expensive!
WeTow.com.au proudly services the greater Brisbane area. Not sure if that's you? Give us a quick call!
Info You'll Need To Get A Tow Truck On The Way
There's a good chance you don't have to arrange tow trucks very often. To make the process less daunting, here are a few basic things you can gather before you call us. This makes for a faster phone call and often a faster arrival.
Your exact location (a street corner, address or business name)
The type of vehicle(s) you need towed
The condition of your vehicle (broken down, damaged etc)
Where around Brisbane you'd like to be towed to
Any other information you think might be helpful to the driver (e.g. if it's in a tight spot, is low to the ground or damaged)
Cheap Accident Towing You Can Rely On — On Call 24/7
If you need your car towed anywhere around Brisbane, just give us a call. We'll have a truck on the way in no time.
Staying safe while you wait for a tow truck
No matter where you are in Brisbane, it'll take some time for a truck to arrive. It's important to stay safe and secure for this short wait.
To make sure you are, be sure to cover all of the below steps:
Turn on your hazard lights so you're more visible
Move your vehicle somewhere safe if it's possible to do so
Stand somewhere safe, away from your vehicle
No matter what, never stand directly in front of or behind your vehicle