Not exactly something you see on the road every day! This incident marks the start of an ongoing series where we look at some of the more interesting towing jobs our team come across.
We'll never mention real names and our aim isn't to shame, it's simple to highlight the types of things that happen on Brisbane roads every week. Being a tow truck operator is about so much more than just moving broken down vehicles!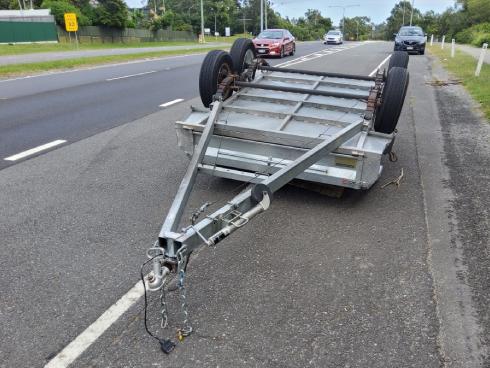 What happened?!
The driver with this trailer was travelling down Old Cleveland Road in Carindale when another vehicle pulled out from a side street and clipped the trailer. This caused it to flip upside down, stopping to one side of the road.
Thankfully the trailer was only loaded with rubbish that was being taken to the dump, although it was still a bad day for everyone involved.
Getting this resolved
We had a tow truck on the way within 4 minutes of the call. Knowing that this type of incident is incredibly stressful, we got the necessary form out of the way then got to work getting the trailer loaded onto our truck safely.
The tow truck was parked at a 45 degree angle to the trailer and a winch was used to flip it back onto its wheels. It was then pulled off the road so traffic could get back to normal before securing the trailer on the back of our truck.
The end result
In the end, it took just 15 minutes from our arrival to have the trailer off the road and safely on the back of the tow truck. We cleaned up remaining debris on the road and removed the trailer from the scene.
This type of incident can be covered by insurance for either driver, should they wish to go that route.
As a side note, look at how well secured the load was. Even with the trailer being struck hard enough to flip upside down, most of the load is still securely tied down!